Find the school giving you a career choice in the future and a great professional integration rate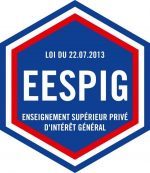 The FESIC schools network is made up of 26 grandes écoles, which are engineering, business management and humanities and social sciences schools. Thanks to the number of grandes écoles in the network, the quantity and quality of the students who attend and their after-graduation employment prospects, FESIC has become the leading network of private higher education institutions in France.
What is a Grande Ecole ?
The first grandes écoles were created in the 19th century. They are part of the French higher education system as well as universities. They have very selective admission policies, provide an education of excellence, and offer job-oriented courses that all award a master's degree.
FESIC serves the general interest
Why to choose a FESIC's school ?

An exceptional employment rate
81% of graduates find a job 3 monthes after the end of their studies.

A strong international dimension
77 campus all over the world ! Thanks to diplomas recognized abroad, you can work where you want.
Internships, exchange programs, apprenticeship trainning, or gap year : programs are open on the world.

Fulfilling and multidisciplinary programs
Individual supports, interdisciplinary projects… Innovative teaching resources is our DNA